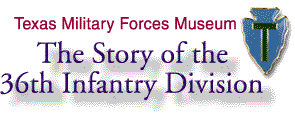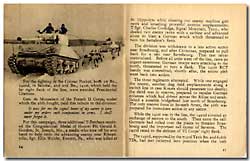 Pages 24 and 25
For the fighting in the Colmar Pocket, both 1st Bn., 142nd, in Selestat, and 2nd Bn., 141st, which held the far right flank of the line, were awarded Presidential Citations.
Gen. De Monsabert of the French II Corps, under which the 36th fought, paid this tribute to the division:
It was for me the signal honor of my career to have under my orders such companions in arms. I shall never forget it.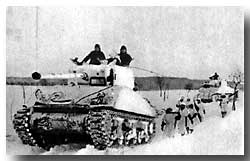 For this campaign, three additional T-Patchers received the Congressional Medal of Honor: Pfc Gerald S. Gordon, St. Joseph, Mo., a medic who tore off his arm band to help stem the advancing enemy near Ribeauville; Sgt. Ellis Weicht, Everett, Pa., who was killed at St. Hippolyte while cleaning out enemy machine gun nests and smashing powerful cannon emplacements; T/Sgt. Charles Coolidge, Signal Mountain, Tenn., who dueled two enemy tanks with a carbine and advanced alone to blast a German attack which threatened to turn his battalion's flank.
The Division was withdrawn to a less active sector near Strasbourg, and after Christmas, prepared to pull back for a rest near Sarrebourg. That rest never materialized. Before all units were off the line, came an urgent summons: German troops were attacking to the north, threatened to turn a flank. The 141st RCT hastily was committed; shortly after, the entire 36th went back into action.
The three regiments alternated. While one engaged the enemy, another dug field emplacements along a switch line in case Krauts should penetrate too deeply; the third was in reserve, prepared to repulse German columns which had driven across the Rhine and established a sizeable bridgehead just north of Strasbourg. The only reserve force in Seventh Army, the 36th was prepared for immediate action in any sector.
While the 141st was in the line, the 142nd covered an exchange of sectors to the south. Then came the call: Germans had rolled over the plains to threaten Strasbourg and the important rail center of Saverne. The 143rd raced to the defense of VI Corps' right flank.
The 143rd, supported by the 753rd Tank Bn. and 636th TDs, had just jockeyed into position when the 10th
Copyright © 2000
All Rights Reserved
This World War II history
is sponsored and maintained
by TMFM