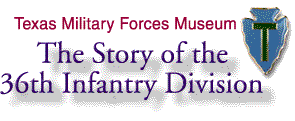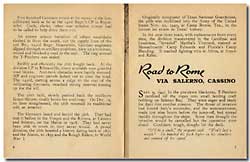 Pages 2 and 3
Five hundred Germans struck at the center of the line, infiltrated back as far as the 141st Regt.'s CP in Riquewihr. Cook, clerks, other rear echelon troops had to be called to help drive them out.
An enemy assault battalion of officer candidates slashed in from the south, cut the supply lines of the 3rd Bn., 143rd Regt. Meanwhile, German engineers slipped through to artillery positions, blew up a howitzer, mined and blocked a road to the rear. The ring around the T-Patchers was sealed.
Swiftly and efficiently the 36th fought back. At the division CP in Ribeauville, every available man guarded road blocks. Anti-tank obstacles were hastily manned. MP and engineer patrols lashed out to clear the road. The 143rd, cutting across a ridge to the rear of the infiltrating Germans, smashed strong reserves coming up for the kill.
The 36th held, slowly pushed back the stubborn Kraut thrusts, finally broke the steel trap. On Dec, 19, its lines straightened, the 36th resumed its traditional role as attacker.
The Germans hated and feared the 36th. They had met it before in the Vosges and the Riviera, at Cassino and Salerno, on the Marne in 1918. They had never been able to crush it; they never would. A proud division, the 36th boasted a history dating back to 1835 and the Alamo, to 1899 and the Rough Riders, to World War I.
Originally composed of Texas National Guardsmen, the 36th was mobilized into the Army of the United States Nov. 25, 1940, at Camp Bowie, Tex., in the fiercest ice storm in Texas history.
In the next three years, with replacements from every state, the division maneuvered in the Carolinas and Louisiana, "invaded" Martha's Vineyard, trained at Massachusetts' Camp Blanding. It reached fighting trim in Africa, at Arzew and Rabat.
ROAD TO ROME
VIA SALERNO, CASSINO
Sept. 9, 1943; In the pre-dawn blackness, T-Patchers tumbled off the ropes into small landing craft bobbing on Salerno Bay. They were eager and ready for their first combat mission. The threat of invasion had forced Italy's surrender, and the announcement, made just nine hours before the jump-off, had spread rapidly throughout the ships. Some men thought the invasion would be cancelled but the operation went ahead. Confident, tough, doughs hit the deck:
"It'll be a cinch," the sergeant said. "Won't last a month." He bunched his pack higher on his shoulders and counted off his squad."
Copyright © 2000
All Rights Reserved
This World War II history
is sponsored and maintained
by TMFM