ARDENNES - ALSACE CAMPAIGN
MODER RIVER DEFENSE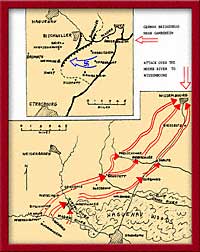 For the ensuing month the 36th Division set up a static defense along the Moder River. It introduced a combat innovation in the use of PA searchlights when heavy, low clouds covered the night sky. The searchlight beam, reflected from the clouds, provided "artificial moonlight" that could be turned on at irregular intervals to expose enemy night activities, especially when unusual sounds were heard.
During this period of "active" defense some other MA units in the area reported bombing by U.S. planes, and the 35th MA Brigade Commander requested Lt. Col. Larson to investigate. He determined that no bombs had been dropped, but that U.S. Engineers were blowing up stores of enemy mines at about the same time that some Allied planes were flying over the area.
Platoon C-2 fired on and hit a ME-262 dropping bombs. It disappeared in cloud cover to the east.
During the static defense it was discovered that an artillery gas shell was missing from an ammunition dump. A general alarm was issued since, if the shell had been fired in error, retaliation would have been sure to come. Then everyone became interested in their gas masks. Fortunately, the missing shell was later found.
At this time, higher MA headquarters ordered one-hole, cabinet finished, box latrines be issued to each 443rd platoon section. This was done but no one would use them. The gun sections placed the one-holers in plain view with a few sheets of toilet paper in each — for the Group inspectors to see. A digestive upset could really mess up such an item and the trailer when a rapid, tactical movement of the guns was required. Some 443rd gun-tracks were seen on the move with the one-holer hanging on the gun barrel like a collar. 443rd gun sections became the butt of jokes in the Division and over a period of time, the sections just forgot to pick up their beautiful latrine boxes when they moved. Higher headquarters said no more about it.
As a sergeant of Platoon B-1 noted, there were two words in the vocabulary of the 443rd that generated tension and suspense. They were "waterproofing" and "infantry mission" (providing close-up support in an infantry attack). The former had its obvious, deadly dangers but the latter was even more so. The 443rd T-28-E1 and M-15 gun-tracks, (and the T-28-E1 with no armor protection), with their high silhouettes, meant that men were five or six feet in the air, readily seen by the enemy, firing at enemy targets in support of nearby infantry troops, usually well dug in and defiladed. The 443rd gun tracks frequently drew intense counter-battery fire from enemy mortars and artillery. But 443rd men continued to provide such support in both day and night missions while at the same time carrying out their MA mission.
During the defense of the Moder River line some savage battle action occurred. Not unusual was the sight of a U.S. tank unit in formation on the road near Gambsheim. Every tank had been knocked out by German Mark VI "Tiger" tanks, one of which lay disabled in a nearby field. Some U.S. tankers had climbed out of their disabled tanks and were shot by German infantry who had been concealed in concrete spider holes near the road — an example of an effectively defended road block. The entire scene — tanks and bodies was covered, by a soft, snow blanket.
Not too far from the scene described above, Platoon D-2 on 20 February, moved into a road defense position. Suddenly the lead plane of four U.S. P-51s (Mustangs),returning from a bombing mission over Germany, went into a strafing dive on a nearby U.S. ¾ ton truck. The 443rd gunner fired one warning round of 37mm and then held his fire because the planes were American. The single shot hit the plane causing it to slow and nose down, its tail hitting the propeller of the plane behind it, causing both planes to crash — one in the 36th Division's area and one in the adjacent French area. One American and two French soldiers in the truck were wounded as the truck was wrecked and the two pilots were identified as of the 8th Tactical Air Force, based in Britain. Lt. Col. Larson reported to MA Group General Townsend that the 443rd had downed two planes with one shot but was told to say no more about it until the whole incident had been verified.
On 21 February near Bischwiller, an ME-109G and a FW-190 were destroyed by Platoons C-1 and C-2. Another ME-109G near Gambsheim was badly damaged by Platoon D-2 and disappeared in a cloud of smoke with its motor failing.
During this time the 443rd conducted an PA Training School in Wilgottheim. Hour and half-hour classes were scheduled from 8:30 am to 3 pm daily and two sections at a time from each Battery attended this school for five days. This was the most thorough and intensive training personnel had received in many months, and it afforded a well-deserved break from combat.
Meanwhile the 36th Division continued to conduct patrols and raids to seize prisoners, from whom information could be obtained about the German troop dispositions and strengths. And in preparation for the drive into Germany, VI Corps advised all troops of expected standards of military conduct to be followed and ordered that a policy of non-fraternization with German civilians be followed. Dealing with Germans on official business was to be on a firm but fair basis.