SOUTHERN TUNISIA CAMPAIGN
PHASE 1
For the final phase of the Tunisian Campaign, II Corps passed from the command of the British 1st Army to command of the 18th Army Group of General Alexander. II Corps was then composed of the 1st, 9th and 34th Infantry divisions, the 1st Armored Division, the 13th Field Artillery Brigade reinforced by the 5th Armored Field Artillery Group, a British reconnaissance unit of two squadrons, the 1st Tank Destroyer Group (7 battalions), Corps Antiaircraft with 4 automatic weapons battalions, one 90 mm battalion, separate batteries and Corps service and supporting troops (XII Air Support Command and mobile French forces operating from the Negrine area).
Prior to the beginning of this campaign the 443rd received a letter from General Ward, 1st Armored Division Commander, complimenting and thanking the 443rd for its effective and efficient support during the preceding two months of severe fighting.
DRIVE TO MAKNASSEY
On 13 March, Colonel Benson, Chief of Staff of the 1st Armored Division, was given command of all troops in the Sbeitla vicinity. Immobilized for a week by rains, the Benson Force finally moved southeast about 25 miles while conducting vigorous reconnaissance. In spite of continuing heavy rains the night of 15/16 March, the 1st Armored Division combat commands moved out of Kasserine to Djebel Souina, 20 miles northeast of Gafsa. On 16 March, CCA found Station Zannouch evacuated. Rains continued but the Germans became nervous over the rapid American comeback and began mounting heavy air attacks. On 16 March Platoon A-1 destroyed three German planes. Two hundred twenty five Italian soldiers tried to surrender but were pinned down by German fire and were unable to reach American lines. As prisoners began to be taken, they testified to the concentrations and accuracy of American artillery fire. Col. Maraist, commanding 1st Armored Division Artillery, had an unprecedented amount of fire at his command in five field artillery battalions. The rains finally ceased, giving way to hot days and cool nights. Men listening to command radios would hear Axis Sally playing favorite American songs while telling the American soldiers about their unfaithful wives or how their girl friends were stepping out on them.
Finally the 1st Armored Division attacked but due to the continuing enemy buildup, east of Maknassey, was able to gain only a temporary foothold in the pass with both sides suffering considerable losses. Farther south, the 1st Infantry Division captured Gafsa on 17 March and the following day pushed to secure the hills six miles east of El Guettar. The Division captured over 700 Italians of the vaunted Bersagliere Regiment and the Centauro Division. On 23/24 March enemy counterattacks, by 10th Panzer Division tanks, were thrown back with heavy losses inflicted upon the Germans. Over 600 prisoners were taken and only nine survivors of one company were seen to escape. American artillery air bursts (using time, or posit fuses) wreaked havoc upon enemy ground troops. During these actions, night-time was punctuated by the throbbing engines of the Ju-81s (Stukas), the crunch of bombs, parachute flare clusters and radar-controlled salvos of heavy antiaircraft fire. And when General Ryder's 34th Infantry Division advanced on Fondouk with little opposition, in a diversionary attack, it was the first time that all four divisions of II Corps were engaged simultaneously.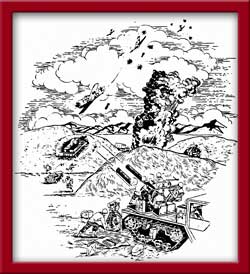 General Eddy's 9th Infantry Division had already attacked El Guettar but the enemy's well-entrenched and coordinated defenses, some blasted out of solid rock and in formidable terrain, could not be penetrated. At this point, German determination to keep the II Corps from driving to the Gulf of Tunis at Gabes was succeeding. If it had failed, the entire Afrika Corps would have been trapped between II Corps and the British 8th Army, advancing from the south and east. There appeared to be no way that the Benson Armored Force could break through to Gabes. The Fondouk diversion had not worked and the Maknassey operation was stopped. The Germans had stepped up their air attacks and sent the 21st Panzer Division to El Guettar, to counter any Allied breakthrough. In addition, roving enemy patrols were disrupting night-time movement of supplies to advanced Allied positions. Meantime, General Patton was "chomping at the bit" for the 1st and 9th Infantry Divisions to move forward faster and enable the Benson Armored Force to break out on the Gafsa-Gabes road. During this difficult fighting the 443rd continued to provide superb, combat support for the divisions. On 31 March, three JU-87s were shot down, the two man crew of one being captured and taken for interrogation.
The well-loved war correspondent Ernie Pyle, in "Here Is Your War", page 193, wrote the following about a Platoon D-3 gun track and its crew. At the time, Platoon D-3 was defending Col. Benson's Armored Force Command Post near El Guettar. The Command Post was under heavy and incessant air attack and bombing with "Butterfly" anti-personnel as well as 500 and 1,000 round bombs. A number of men were killed and wounded.
"Most of us found our emotions becoming jaded as month after month of war piled on us. But Lennie Lt. Leonard Bessman) was never jaded. He had a facility for mirroring in his fertile mind every human thing that crossed his path. We (American Forces) had a certain type of antiaircraft (multiple guns), mounted on a half-track, which required two men to fire. The gunners sat in two metal, bucket seats, Just back of the guns. Lennie was lying near this ack-ack outfit during a terrific dive-bombing and strafing, and he kept his eye on those two special gunners as the Stuka came right down upon them. The two never wavered. They sat there firing until suddenly, and in unison, they toppled sideways out of their seats — dead. And all within the same instant, two more Americans rose like twins from the bed of the half-track, took the seats just vacated by death and went on with the firing. Lennie was terribly moved by that little drama of duty automatically performed and he almost choked up when he told the story".
Lt. Heisler, of D Platoon, had instructed his men to take cover after they saw an enemy plane release bombs over their position but Sgt. Steinberg's gun crew refused to leave their weapons and continued firing on the attacking aircraft. One man was killed and three were seriously wounded. When Lt. was sure that the wounded men were being properly cared for, he went for a vehicle to evacuate them to medical facilities. First his jeep was wrecked by an anti-personnel mine, then the first ambulance he found ran over a land mine and was immobilised. He finally secured a second ambulance which took the wounded men. His selfless action earned him a silver star.