SICILIAN CAMPAIGN
DRIVE TO PALERMO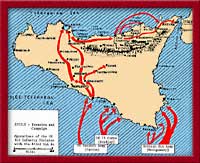 After the ancient city of Agrigento was captured by a battalion of the 3rd Division's 7th Regiment against strong resistance and artillery fire plus attacks by Italian planes, enemy forces began to withdraw northward fighting stubborn but ineffective rearguard actions. Enemy mine fields were poorly laid and road blocks were not well defended. Many anti-tankguns were not well used in defense and as U.S. forces prepared to mount their drive to Palermo on the north coast of Sicily, a number of disturbing air attacks occurred. On both 13 and 14 July, 443rd Batteries B and C reported bombing and strafing of friendly troops by American P-51s and P-38s. During 15 July on three different occasions a total of 13 P-51s strafed U.S. Infantry. Angry protests to higher headquarters served to end these incidents. In preparing to move to join the Division's attached 36th Field Artillery, a gun-track of Platoon D-2 overturned when it was being moved out of its position on a precipitous slope. One man was injured and hospitalized.
The drive to Palermo progressed so rapidly, against light and sporadic resistance, that American artillery was often unable to get into firing position before being ordered to continue the advance. So rapid was the American advance that few of the enemy were able to escape capture. Enemy air activity began to moderate and considerable equipment was abandoned by the retreating enemy. Mine fields and road blocks, intended to delay the Allied advance, were poorly defended. Many anti-tank guns, when captured, were found never to have been fired. One of the captured pieces was a half-track with a 40 mm gun mounted on it — suggesting that the German Ordnance people had tried to make use of the T-28-E1s, captured in Tunisia, to develop a similar weapon. German pilots often referred to the T-28-E1 as the "hornets' nest", and no doubt the captured gun-tracks were the object of much testing and speculation by the Germans. The one captured in Sicily did have a gun platform, leveling mechanism which the T-28-E1 did not have. No weapons of this type were seen subsequently.
At frequent halts, during the campaign, 443rd men would occasionally listen to Axis Sally broadcasts. She had little effect on American morale. 443rd men made her the butt of jokes, scorned her amateurish, treasonable talk, and laughed at her obvious half-truths or outright lies. But they did enjoy the music she played.
The rugged but beautiful Sicilian countryside became more so as the advance to Palermo continued. The sere and dry conditions of the south changed to a more lush and greener land in the north. Speed of the American advance saw the 3rd Division Headquarters moving three times in one day — from Aragona to San Stefano, to Prizzi and to Corleone. On 22 July most of the resistance in the 3rd Division sector collapsed and Palermo was taken, unopposed, on 23 July. It is interesting to note that at 2:45 pm on 23 July, 7th Army Commander Patton issued orders for all troops to hold their advance, at the Villabate - Belmonte - Monreale line, until further orders. This action enabled Patton's own 2nd Armored Division to enter Palermo first. In Palermo, the usual looting of warehouses was under way and continued until military intervention stopped it. The usual, systematic confiscation of food and other supplies had left the Sicilians with lack of many foodstuffs and no love for their German "allies".