FRENCH MOROCCAN CAMPAIGN
Port Lyautey Operation
The Western Task Force convoy, as it approached the Moroccan coast, had been divided into three separate sub-task forces for the landings at three different points. T/F "Goalpost" under General Truscott headed for Port Lyautey; T/F "Brushwood" under General Anderson steamed toward Fedala, 15 miles north of Casablanca; and T/F "Blackstone" under General Harmon went for Safi, 120 miles south of Casablanca.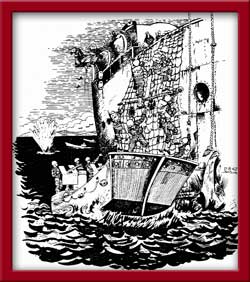 The landing at Port Lyautey, about 70 miles north of Casablanca, erupted into the Western Task Force's heaviest fighting. Fierce French resistance was obstacle enough but the landing was complicated by inexperienced Navy coxswains who, in the high surf and rocky beaches, landed many of their combat loads on the wrong beaches. Three days of tough fighting ensued resulting in over 400 casualties.
The center of French resistance was the old Kasba Fort. The 3rd Infantry Division was able to secure small beachheads but faced numerous and heavy French armor, artillery and infantry attacks. With naval gunfire support they were eventually able to capture the lighthouse which provided a vantage point from which to direct more accurate naval shelling. A new weapon against tanks, the bazooka, was used in this fighting for the first time and with good effect.
All air opposition was knocked down by AAA units ashore or on transports and after early attacks were beaten off, Gruman fighters from a U.S. carrier ruled the air. It was Platoon D-1 that in this landing, shot down a French attacking plane from the landing craft while enroute to shore. Two 443rd gun-tracks and some men of Platoon D-3 were called in to reinforce the 60th Regiment's 3rd Battalion as it hit serious resistance. In addition, men of Platoon D-3 assisted in manning two 37 mm. anti-tank guns. A Platoon D-l gun-track moved with and protected General Truscott as he reconnoitered a valley south of Port Lyautey.
Finally an attack by the 2nd Battalion, 60th Regiment, supported by two 155 mm howitzers (SP) and naval dive bombers, forced surrender of the French garrison in the Kasba Fort. Even though surf condidions had steadily worsened and many landing craft were lost, reinforcements of tanks and self-propelled cannon, as well as needed supplies, began to arrive on the beach in sufficient quantities to enable the 3rd Division to begin advancing to secure its other objectives. At the request of the French Commander, Armistice arrangements were agreed upon on 11 November.