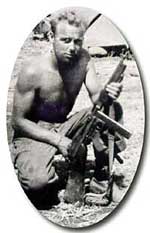 Son, husband, father, warrior, Edward "Eddie" Stewart Cahoon of Hempstead passed away on February 28, 1995 at the Navasota Regional Hospital in Navasota, Texas. A longtime resident of Waller County, Mr. Cahoon was born in Bourne, Massachusetts in 1918. He is survived by his wife of 46 years, Betty Cahoon, two sons Michael P. Cahoon and Peter S. Cahoon and their wives; two daughters, Colleen Foudray and Mary Okvist, and their husbands; three half-sisters, Betty Ann Wright, Mary Jane Moran and Louise Schotte; one brother, James Cahoon; fifteen grandchildren, and numerous other nieces, nephews and friends.
A highly decorated combat veteran of World War II he served with the historic Texas 36th Infantry Division. Specifically in the 141st Regiment, 2nd Battalion, F-Company, 3rd Platoon, 2nd Squad.
"Remember the Alamo" the famous motto of the 141st Regiment, was due to some units tracing lineage of the 141st back to the Texas Revolution of 1836, and the Regimental motto reflects those roots. Texas Highway 36 was named for these brave soldiers of "The Fighting 36th", also known as "T-Patchers", because of their distinctive service patch emblazoned with a large, capital "T" over an arrow. Some of the "Firsts" of the 141st Regiment were, "First to land in Europe", "first to land in Southern France", "first of the Seventh Army to cross the Moselle", and "first of the 36th Division to enter Germany". 1,126 killed, approximately 5,000 wounded (hospitalized), and over 500 missing in action. Three Medals of Honor, 31 Distinguished Service Crosses, 492 Silver Stars, 1,685 Bronze Stars The 36th Division first experience in combat was the amphibious assault landing at Salerno, Italy on 9 September 1943 called Operation AVALANCHE. After months of terrible combat and the subsequent fall of Rome, the 36th was pulled out of the front line in order to prepare for the amphibious assault landing called Operation Dragoon in Southern France in August 1944. The 36th Division history includes nineteen months in combat in five major campaigns and two amphibious assaults. The 36th honors its 175,806 enemy soldiers captured, its 15 Congressional Medals of Honor, its 10 Presidential Unit Citations, and numerous other battle awards. At the same time its casualty list, third highest of any American division, numbered 27,343, of whom 3,974 were killed, 19,052 wounded, and 4,317 missing in action. Other than when Edward Cahoon was convalescing in hospital from his wounds, he served in most of this bitter combat from start to finish.
Edward Cahoon earned an assortment of medals, including the Bronze Star, the Silver Star and the Purple Heart with Clusters. According to a newspaper account of the day, on May 28, 1944, Private Cahoon, as first scout at the head of his squad, was fired upon by two enemy machine guns from only 30 yards away. He opened fire with his Thompson sub-machine gun and continued to fire into the enemy positions, while his squad hurried to advantageous positions. When his gun fell apart in his hands, Mr. Cahoon secured a rifle and continued to cover the attack of the squad, which destroyed the nests, killed two of the enemy and captured 22 German prisoners. This singular act earned him the Silver Star. In the irony of warfare, when Private Cahoon participated in the first beach assault landings in southern France his brother Louis Cahoon was aboard ship on USN Marblehead which were providing covering fire with their 6 inch guns on the German positions. Another bittersweet irony is that when Private Cahoon was severely wounded by a round fired from a German 88 fired from a Tiger Tank, his 19 year old dear friend, Kenneth Karsen, was killed beside him. While recovering from his wounds in military hospital, Edward wrote home and asked his mother to go meet Kenneth's widowed father and comfort him. Edward's mother latter married Kenneth Karsen's father which made them step-brothers. Near the end of his life when Edward was asked where he wished to be buried, he replied, "with my buddies".
SENATE RESOLUTION

In Memory
of
Edward S. Cahoon
By: Turner

SENATE RESOLUTION

In Memory
of
Edward S. Cahoon

S.R. No. 706



WHEREAS, The Senate of the State of Texas joins the citizens of Hempstead in mourning the loss of Edward S. Cahoon who died February 28, 1995; and

WHEREAS, WHEREAS, Born in Bourne, Massachusetts, in 1918, he had been a longtime resident of Waller County; and

WHEREAS, Mr. Cahoon raised his family in Waller County, where he worked as a master brick mason; some of the local structures that reflect his work include the Waller High School, the Prairie View A&M University dormitories, the Rustic Oaks Restaurant, the Lawrence Marshall Dealership, and numerous custom homes in the area; and

WHEREAS, His superb workmanship was highly regarded and enabled him to work on several Houston area schools and hospitals and the world-famous Astrodome; his high-level security clearance qualified him to perform masonry work on various top-secret military installations; and

WHEREAS, A highly decorated combat veteran of World War II who was wounded on four separate occasions, Edward Cahoon earned numerous medals, including the Bronze Star, the Silver Star, and the Purple Heart with Clusters while serving in the F Company of the historic 141st Regiment of the 36th Infantry Division; and

WHEREAS, The courage and heroism that earned him the Silver Star perhaps best define the determination and bravery of the husband, father, and proud American whose passing will leave a great void in the lives of his family, his friends, and the State of Texas; now, therefore, be it

RESOLVED, That the Senate of the State of Texas, 74th Legislature, hereby extend sincere condolences to the members of his family: his wife, Betty Cahoon; his sons, Michael P. Cahoon and Peter S. Cahoon; his daughters, Colleen Cahoon Foudray and Mary Okvist; his brother, James Cahoon; his half-sisters, Betty Ann Wright, Mary Jane Moran, and Louise Schotte; and his 15 grandchildren; and,

RESOLVED, That a copy of this Resolution be prepared for his family as an expression of deepest sympathy from the Texas Senate, and that when the Senate adjourns this day, it does so in memory of Edward S. Cahoon.

SIGNED
President of the Senate

I hereby certify that the above Resolution was adopted by the Senate on April 12, 1995, by a rising vote

SIGNED
Secretary of the Senate

SIGNED
Member, Texas Senate
To contact the Cahoon family, please send email to Michael P. Cahoon at cahoonm@razortruss.com