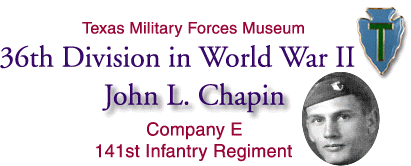 | | |
| --- | --- |
| The following letter from El Paso Independent School District Trustee Dan Wever, appeared in an El Paso newspaper in answer to a student's concern about naming a new High School on Fort Bliss in honor of Captain Chapin. Mr. Wever's sensitive, insightful and detailed letter makes a fine tribute to Captain Chapin. | |
Dear Lisa,
I read your letter to the editor and was impressed with your sincerity. However, as a trustee of the EPISD and a member of the committee that selected the name John L. Chapin I wanted to give you some information that I feel might give you a little better insight into why we chose John Chapin. You say that you and your friends do not even know who John L. Chapin was. This is probably very true, as our newspaper has failed to inform the public about his life and the reasons for our selection other than call him a war hero. Let me introduce a little of him to you and your friends and after getting to know him a little better I hope you can see how this man's actions and his short life painted our reasoning.
John L. Chapin was born on March 15 (Ides of March), 1913. He went to grade school in El Paso and attended El Paso High until his senior year when his family moved "down the valley" and he finished his senior year and graduated from Ysleta High School. During these early years in his life, family friends frequently came through El Paso and visited. These friends had a daughter just 4 months older than John named Velma. It seemed that John always spent all of his time with Velma when they were visiting and it was said that John and Velma fell in love at the age of 9. (Kind of silly isn't it?)
These were hard years in the United States and the World. We were in a depression and many, many people did not have jobs and children went to bed hungry much of the time. After high school John enrolled at New Mexico A & M. He completed 2 years there and transferred to Texas A & M. He graduated from Texas A & M in 1936 with a degree in Chemical Engineering. Velma had graduated from a college in Los Angeles in 1934. John took 2 years longer because he had to drop out a semester now and then to earn money to continue his education.
John and Velma had written letters and visited all through the college years both knowing that some time, the day would come, when they would be married. The day did finally arrive and they were married on April 21, 1937. John and Velma were blessed with a son, Paul, who was born on December 27th 1938.
John had many job offers with his degree in Chemical Engineering, as this was a fairly new field at the time. However most of the offers were very low paying, so much so, that he was able to make more money working in the post office in El Paso. He took graduate courses at UTEP which at the time was the College of Mines. John wanted to be a doctor and he had all of the science courses he needed and was ready to apply for Medical School.
About this time the El Paso National Guard almost begged him to join them as their Chemical Warfare Officer. He talked it over with Velma and they decided he would join the National Guard unit for a year and then go to the University of California Medical school. It was thought by both of them that the extra money would make medical school a little easier as the country was still in the terrible depression. As luck would have it there were maniacs running amuck in Europe (Adolph Hitler and Benito Mussolini) and John Chapin's National Guard unit was activated as Company 'E', 141st Infantry, 36th Division of the United States Army in November 1940.
Company "E" was a group of men and boys, many of whom could not speak English, some from Juarez, all Hispanic, except for the officers, one of whom was 1st Lt. John L. Chapin. Many of these "boys" had dropped out of Austin, Bowie and El Paso High Schools to join the guard because they knew we were in for some tough battles in the future and they wanted to be trained. Company "E" left El Paso without much fanfare because this was still before the attack on Pearl Harbor.
While training Chapin was promoted to Captain and made company commander of Company "E". Captain Chapin had been trained at Texas A&M so he was already a skilled officer. The Hispanic men in his company grew to respect him because of his skill as an officer and fairness in dealing with day to day problems in the military. He also grew to love his men because he had 5 chances to advance to the rank of Major but he turned them all down because he would have had to leave "his" boys. He was addressed by his men as Captain John but among themselves he was affectionately called Daddy long legs as some of his men later reminisced.
The company was stationed in many places around the United States and got some of the best training that was available at the time for our soldiers. Velma accompanied him to many of the stations with their son Paul. When the trips across country got to be too much she took Paul back to California to stay with her parents until Capt. John came home. On his last 4 day leave before shipping overseas, he spent most of his time with his son who was not quite 4. Velma and Paul put John on a train December 12, 1942. This was the last time either would see "our daddy".
Company "E" and Capt. John were sent to Africa to prepare for the invasion of Italy. The unit was first bloodied at Salerno. An excerpt from the 36 Division War Museum material. 'Salerno was one of the bloodier, more critical operations of the Second World War. For a time the action hung in the balance as strong enemy counterattacks smashed and threatened the very existence of the initial beachhead. But at the last a gallant defense held firm and Salerno was won. This was the opening struggle of the long and bitter Italian campaign."
Of the battles and of the winter months that were ahead, General Walker upon their conclusion could forthrightly state, "I do not recall any campaign in the whole history of the United States Army in which soldiers have had to endure greater hardships or have performed greater deeds of heroism than this campaign in Italy."
"E" Company became known as a fierce fighting unit and on December 16th, during the attack of San Pietro, Captain Chapin was wounded and hospitalized. He was told that the wound would probably earn him a ticket home. When he heard this, he was quoted by two different sources, one of whom was Gabriel Navarrete, another famous hero of Company E as saying "No, I brought these boys overseas and with the help of God will take them back to Texas or die trying." Shortly thereafter he got word that the Division had orders to cross the deadly Rapido River. He left the hospital, some say the hospital had him listed as AWOL, and rejoined his men to lead them across the river.
Everyone knew the Rapido river crossing was a suicidal mission but Captain John led his men across against odds that were staggering. (There was a congressional hearing about why these men were sacrificed in this action. It was recognized as a mistake and everyone was told that the way the military learns is by learning from its mistakes.) His men were the very few that got across the river. They got pinned down and needed relief but it arrived about 15 minutes too late. There was evidence that they had run out of ammunition but they had cleared the way through the barbed wire thus paving the way for the next group to take their objectives. Many lives were saved by their actions and many El Paso men, most of them Hispanic, died or were captured on this day January 22, 1944

To view larger images click on either picture

From the El Paso Times. Two dead heroes of El Paso were awarded the Silver Star for "magnificent courage and devotion the duty." Receiving the posthumous awards are Capt. John L. Chapin and Staff Sgt. Roque O Segura. From the War Department's citation "Their infantry unit was ordered to cross a river in Italy on Jan 22, 1944, the attack being initiated under heavy enemy artillery, mortar and machinegun fire, which continued throughout the operation. These infantrymen evidencing complete disregard for their own safety displayed outstanding courage. Advancing in the face of overwhelming enemy fire they crossed the river and moved valiantly toward their objective. While so doing they met their death. Their magnificent courage and devotion to duty in the face of vastly superior odds served as an outstanding example and inspiration to all who witnessed this action.

Normally you would think that this would be the end of this story but in fact the real story about the naming of our new high school had just begun. Having just been elected to the EPISD board of trustees and finding myself on the school naming committee I was faced with what I knew would be a very tough job if it were done right. We advertised in the newspaper asking for suggestions. We received 71 names that included Generals, Presidents, Medal of Honor winners both alive and deceased, Supreme Court Justices, school board members past and present, teachers, principals, and even a long time janitor. The committee thought about the location, Ft. Bliss, which meant we would have to take the Army's wants and wishes into consideration. When checking with Ft. Bliss we were told that it would be nice if the name had some sort of military connection and, if named after a person, it was requested that the person be dead as that was the usual rule about naming things on a military base.
We wanted the name of someone who had done something special, was from El Paso if possible, and would be a good role model for the students who would be attending the new High School. I don't think any of us wanted a General, a politician, a famous person, or another school board member. I felt that the very act of dying at any rank in defending our country would suffice as special enough. I also knew that many of our El Paso men had been killed during the Italian campaign at the battle of the Rapido River. Our first inclination was to get the names of all El Paso men killed at this battle and draw a name out of a hat. This sounded good to me so I went to the Internet for help in finding out who the men were that would qualify for the drawing. A former El Pasoian named Ray Wells, who lives in Colorado, responded and I told him what and why I needed the information. Ray was at the time President of the 36th Infantry Division Association which made him probably the greatest source of information in the United States on things that occurred within the 36th Division of which Company 'E' was a part. He supplied me with the names of the men who were still alive from Company "E" complete with address and phone numbers. He also mentioned that if I were to check with these men and ask their opinion as to whom the school should be named after I would probably find that they would prefer that it be named after their commander, Captain John L. Chapin.
I started calling the men on the list. Over a period of about a week I made contact with most of the names including the ones that lived out of town. I was surprised and in fact stunned at the response I got. I had asked the question "If we were to name a new high school after one of the men in Company 'E' who was killed in action or was now dead, who would you chose? All named Capt. John, Daddy long legs, as their choice. I say I was stunned because several of the men broke down and cried just thinking and talking about their former comrade in arms. These were battle hardened veterans who had participated in some of the bloodiest battles of WWII and they were crying over a man who had been dead for over 55 years. We knew that there was something special about Daddy long legs and I was going to try and find out what it was. After much research I learned of his military record. I even got to talk to his battalion commander who sent a letter to the board of trustees asking that the school be named for Capt. John. Many stories from the men he served with showed that this was a kind man, a man who had all the reasons in the world to survive the war and go home and doctor his fellow men, a man who only saw men for what they were, fellow human beings and fellow soldiers.
Capt. John L. Chapin loved all of his men and they in turn loved him. Strange words for men of death and war but truth is stranger than fiction.
Velma did not learn of his death until February 22, 1944 a full month after he died. He was found in a foxhole with a telephone in one hand and his carbine in the other. His personal effects returned to Velma included a link bracelet she had bought for him and his Texas A&M ring. Both still caked with the Italian mud that he had died in. The letters from home he had carried in his pocket were soaked through with his blood as much of the land Company 'E" had been fighting for was soaked with theirs. The Italian soil did not discriminate against Hispanic blood; it accepted it along with Capt. John's and many thousands of other brave men. Capt. John and many of his men are at their final resting-place in a cemetery in Italy. On all of their gravestones are three letters that signify that they all earned the greatest honor a country can give its military men.
KIA
Killed in Action
Captain John's wife Velma is still alive and in good health. She did not marry for 37 years after John's death. His son Paul is now 61 years old and had 4 children of whom Velma is very proud. In one of her letters to me she said "Fortunately I had a good education, and we managed to have a good life. My second marriage was a happy one, but he died of cancer after only 2 years."
So Lisa, this is the very short story about John L. Chapin. It is a sad story but one that happened thousands of times across this great land of ours. WWII was a war so terrible that we try to forget it, but if we do we might not be able to see another one coming. Many estimates say that 50 million people died as a direct result of the war. We can never let this happen again. While not trying to change your mind about who the school should be named after I would like to end by giving you some facts I am sure your parents, grandparents or knowledgeable friends will verify. Without men like John Chapin and the men of 'E' Company who were willing to give their lives to defeat Nazi Germany and Japan and should we have lost this war, I can assure you that there never would have been a El Paso Aqua Posse Swim team. In fact there would not have been a Cathedral High School as religion would have been banned and all of the priests would have been slaughtered. Over 1,000 of these veterans are dying every day and soon there will be none left. I hope someday that you get to name a school and learn as much from the experience as the rest of the board and I have. Good luck in your schooling, remember to keep an open mind, and study hard.
P.S. There is now a movement going on, trying to get a national monument for the men of World War II. It is hard to imagine that we do not have one but we don't. This would be a great project for your class or school. The little amounts donated by schools will add up to some really big bucks and would help greatly I am sure.
Sincerely,
Dan Wever
Trustee EPISD (Member school naming committee)
Honorary Member of the 36th Infantry Division