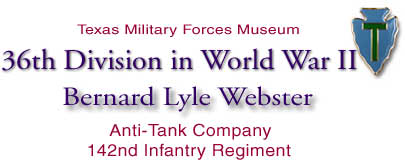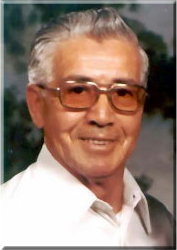 Bernard L. Webster was born July 7, 1917; the fourth child of Moses and Margaret (Beauregard) Webster. He was proud to be a member of Oneida Nation of Wisconsin. His father died in 1922; his mother died in 1979. Bernard passed from this life on August 1, 2001 in the state of Texas, at the home of his niece who had cared for him during his final year. Although he was very ill during his final year, he was happy to be with people he loved and who loved him.
Bernard entered the U.S. Army in 1942 from Odanah, Wisconsin and served until the war ended in 1945. Bernard L. Webster was in the Anti-Tank Company, 142nd Infantry Regiment, 36th Infantry Division. Upon his discharge he moved to California to be near his sister Evelyn, and help her with her family while her husband was still in the service in Germany.
Bernard received the Bronze Star, Good Conduct Medal, Combat Infantry Badge, Army Campaign Medal, Presidential Unit Citation, WWII Victory Medal, and Campaign Ribbons from the European, African, and Middle Eastern Campaigns.
Bernard is survived by two sisters, Mary Pero and Leola Douyette. He also has numerous nieces and nephews who will miss him dearly. He had a Catholic Mass and a graveside Military Service which included a 21 gun salute with the presentation of his flag and the spent bullet casing, in a glass case, were made to his niece in Texas.
NATIVE AMERICAN PRAYER
I give you this one thought to keep~
I am with you still ~ I do not sleep.
I am a thousand winds that blow,
I am the diamond glints on snow,
I am the sunlight on ripened grain,
I am the gentle autumn rain,
When you awaken in the morning's hush,
I am the swift, uplifting rush
of quiet birds in circled flight.
I am the soft stars that shine at night.
Do not think of me as gone~
I am with you still ~~ in each new dawn.
(Author Unknown)