Texas Military Forces
Hall of Honor
Billie S. Abernathy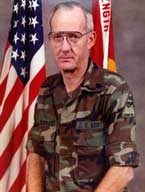 Command Sergeant Major Billie S. Abernathy enlisted in the Texas Army National Guard in 1957, as a member of Combat Command A. He attended Basic and Advanced Individual Training at Fort Chaffee, Arkansas and was then assigned as an intermediate Speed Radio Operator at his unit, in Fort Worth.

Advancing rapidly through the ranks, Command Sergeant Major Abernathy became the Communications Chief and was promoted to Sergeant First Class in 1969. After serving ten months on active duty during the Berlin Crisis, he was promoted to Master Sergeant and assigned as the S2 Sergeant of the 2nd Brigade, 49th Armored Division. After cross training in the operations field, he was assigned to the Brigade's Operations section and promoted to Sergeant Major in 1976. Realizing Command Sergeant Major Abernathy's outstanding performance and unlimited leadership potential, the Command Group promoted him to the position of Command Sergeant Major of 2nd Brigade, 49th Armored Division.

During his military career Command Sergeant Major Abernathy attended numerous schools and traveled extensively to provide mentorship and guidance to enlisted soldiers throughout the state of Texas. As a member of the Texas Legislative Taskforce he traveled to the State Capitol and Washington DC, to seek new equipment, better facilities and training sites, and improved benefits for Guardsmen and their families. He was selected to the Board of Directors of the National Guard Association of Texas in 1977, and later served as Vice-President and then President in 1983. In 1985, the National Guard Association of Texas presented Command Sergeant Major Abernathy with the prestigious "Minute Man Award" for distinguished service to the State of Texas and the United States of America.

Command Sergeant Major Abernathy is a life member of the Enlisted Association of the United States, a member of the Armor Association of Texas and currently serves as the Region 9 Chairman, for the Employer Support of the Guard and Reserve Program in Texas. His military awards include the Army Commendation Medal, Army Achievement Medal, Humanitarian Service Medal, National Defense Service Medal, Army Service Medal, Non-Commissioned Officer Development Ribbon, Army Reserve Component Achievement Medal, Armed Forces Reserve Medal, Texas Faithful Service Medal and the Texas Medal of Merit.

Active in his community, Command Sergeant Major Abernathy's civic affiliations include; member and past president of the Texas Electronics Association, member and past president of the National Electronics Service Dealers Association, member of the Rotary Club and a Paul Harris Fellow, and active member of the American Legion. Command Sergeant Major Abernathy and his wife Helen reside in southwest Fort Worth. They have two sons and five treasured grandchildren.
Contact the Texas Military Forces Museum