Most of the soldiers outfitted by the government looked like this. The majority wore black caps of the hunting style, but some wool hats were also issued. So the soldier is shown trying on a black hunting cap, but holding one of the wool hats. Both his roundabout jacket and pantaloons are white. The collar of his jacket is the citizens style of the period rather than the military stand-up collar adopted later. At this time much, perhaps most, of the clothing sent by Texas agents in New Orleans and elsewhere was whatever they could get their hands on because of the haste necessary. Efforts were made to Texanize and militarize it by substitution of Texas buttons, as shown by the correspondence of interim President Burnet and others, and perhaps the addition of lone star insignia, probably cut out of tin or cast from brass.
In this plate and the following two the banner in the background is the Zavala flag. Designed by interim Vice President Lorenzo de Zavala, it was adopted in May of 1836 by the interim revolutionary government. It served the republic from October to early December, when it was replaced by another designed by David G. Burnet, known as the Burnet flag.
Plate 2 shows some of the variations that were also worn, or possibly worn, during the fall of 1836.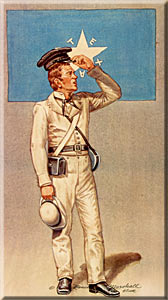 Text and images copyright © 1998 by Bruce Marshall. All rights reserved.