Above: Key parts of the battlefield looking north from the U.S. lines toward the German positions.

| | |
| --- | --- |
| | Presented by the Texas Military Forces Museum |
Sat. 18 October 2008
10:00 a.m.
TXNG Air Assault Demonstration
1:00 p.m.
TXNG Obstacle Course Demonstration
3:00 p.m.
BATTLE REENACTMENT
See a dramatic recreation of the desperate battle to hold the first Allied beachhead in Europe. Vehicles committed to this event include 10 jeeps; 2 Bren gun carriers, 1 CCKW, 2 Kubelwagens, 1 motorcycle with sidecar, 1 x 1941 truck (German)
Event location: Camp Swift (near Bastrop)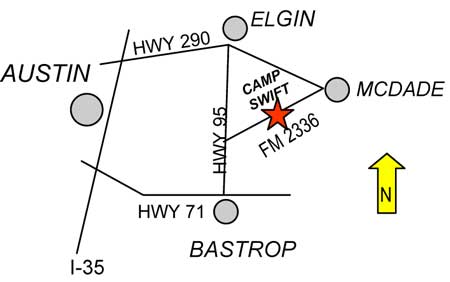 Camp Swift is located on State Highway 95 between the city of Elgin on State Highway 290 and the city of Bastrop on State Highway 71. Bastrop and Elgin are each about 30 minutes driving time from the edge of Austin.
Entrance to the event will be at Gate 5, located on FM 2336.
For more information: call the museum at 512-782-5659 or revisit this page for updates.
Oktoberfest activities are sponsored by the Texas Military Forces along with the cities of Bastrop, Elgin and Smithville. For description of Oktoberfest events and schedule, please visit our AG's Oktoberfest Activities page
Download Salerno65.pdf to print event information and help spread the world via email.