Lost Battalion Symposium
18 - 19 July 2008
You are invited!
To Join the Texas Military Forces Museum for a Special Ceremony to Honor Veterans of Operation Dogface and Those Who Took Part in the Saga of the "Lost Battalion" in October 1944.
This July 18-19, the Texas Military Forces Museum, located on Historic Camp Mabry in Austin, Texas, will officially bring into its collection several remarkable artifacts, related to the saga of the 36th Infantry Division's "Lost Battalion" and the battle to break through German lines in the Vosges Mountains during October of 1944, codenamed Operation Dogface.
During that period a battalion of the 141st Infantry (the Alamo Regiment) of the 36th Division was cut off and surrounded for a week by German forces. The G.I.'s were unable to cut their way out of encirclement and repeated efforts by other elements of the 36th Division to fight their way through were bloodily repulsed.
To prevent the men of what became known as the "Lost Battalion" being forced to surrender for want of food and ammo, P47 Thunderbolt fighters of the 405th Fighter Squadron, flew several missions under incredibly adverse conditions to drop supplies to the trapped Americans. The food, ammo, radio batteries and medical supplies, were loaded into special belly tanks attached to each plane. Typically these tanks were for carrying extra fuel, but these had been specially adapted to carry supplies instead.
The aircraft were forced to drop their tanks through thick clouds, under German fire, using dive bomber tactics. Initially many of the tanks fell outside U.S. lines, but eventually enough were dropped on the American position to keep the "Lost Battalion" going until Japanese-American troops of the 100/442 RCT broke through and relieved the beleaguered Texans. This event is one of the most famous stories to come out of World War II and among the most famous regarding the Texas National Guard.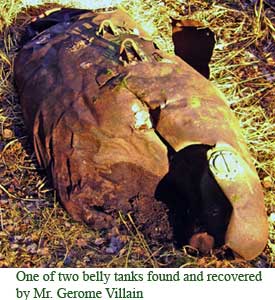 Recently a friend of the museum living in France, Mr. Gerome Villain, found two of the belly tanks dropped to succor the "Lost Battalion." With permission of French officials he recovered them on behalf of the museum. This past January, FedEx donated $10,000 in services to return these historic materials to Texas where they will go into a major exhibit on the "Lost Battalion" in the Texas Military Forces Museum.
On Friday July 18, 2008 we will hold a ceremony at the museum to thank FedEx for its generous contribution to the cause of preserving history and announce to the world the addition of these artifacts to the museum's collection. After the ceremony, the museum will host the induction ceremony for the Texas Military Forces Hall of Honor, where Captain Marty Higgins, commander of the "Lost Battalion" will be among those honored.
The unveiling of these priceless artifacts provides the opportunity for the Texas Military Forces Museum to put a spotlight on the famous story of the "Lost Battalion" of the 141st Infantry, the 405th Fighter Squadron who kept them going with resupply and efforts of the 100/442 RCT to fight its way to their rescue.
Like most famous events many people are aware of some part of the story, but seldom the entire saga. We would like to change that and honor the men from all three units who did so much, and gave so much, for freedom during those momentous days.
To that end we will also hold a symposium on the Lost Battalion story on Sat. July 19.
We would be honored to have you join us for this very special occasion. 
Special room rates have been secured at the Holiday Inn Austin NW for your convenience. The hotel is only 10 minutes from Camp Mabry and the museum. Pre-registration is required. The $10 registration fee will cover your lunch on Saturday, as well as coffee and snacks during a mid-morning break and soda and snacks for our afternoon break. A schedule of events is attached, as is information on our host hotel.
Keynote Speaker and Special Guests
Franz Steidl, author of the book Lost Battalions, will be our keynote speaker for the event. Lt. Erwin Blonder, who was the forward artillery observer with the 141st, and whose radio was the battalion's sole contact with the rest of the division, will speak on his experiences as part of the "Lost Battalion", while LTC "Arch" Archilla, a P47 pilot who flew resupply missions for the battalion will discuss his participation in the battle and the role of the 405th Fighter Squadron.  Mr. Yeiichi Kelly Kuwayama, a combat medic with Company E, 442nd RCT will speak on the part the 100/442nd played in this historic engagement and his personal experiences during the fight. Each presenter will have 50 minutes to discuss his personal, as well as his unit's role in the action. At the end of the event we will have all the speakers on stage together for a panel discussion and question and answer period.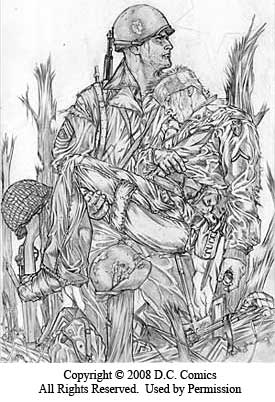 Also attending the event will be Billy Tucci, an award-winning illustrator, writer and filmmaker best known for his modern-day samurai fable Shi. Through Billy's Crusade Fine Arts, the multi-Eisner Award nominated Shi has been printed in four languages, has sold more than 4 million comic books and grossed over 25 million dollars worldwide.
Shi has been featured on every major American TV network while also garnering praise in The New York Times, Wall Street Journal and USA Today. The character has also crossed over with many comic book icons including Daredevil, Witchblade and Wolverine.
Last year, Billy went "mainstream" with his hugely successful run on Marvel Comics' Heroes For Hire, DC's VS cards , the release of the massive 576 page Definitive Shi and penning the critically acclaimed Zombie-sama! with illustrator John Broglia.
Producer Mimi Polk Gitlin's Lion Eyes Entertainment (Open Range, Trapped) has recently optioned Shi for a major motion picture. Billy is writing the screenplay with Kevin Bernhardt and will serve as Executive Producer.
The Shi creator is also a highly sought after public speaker. A regular on the public school and university circuit, Billy recently lectured on storytelling to engineers at Lockheed Martin. He's currently been drafted to bring back his favorite comic book character of all time -- Sgt. Rock.
Billy is writing and illustrating the six-issue "Sgt. Rock – The Lost Battalion." "The Lost Battalion" focuses on the heroic stand against impossible odds by 275 T-Patchers of 141st/36th ID under 1st Lt. Martin Higgins in the Vosges Mountains of France in October 1944. Billy has extensively researched the battle, speaking with many historians, veterans and recently returned from the Vosges where he was bestowed an Ambassador by the people of Bruyeres.
With "The Lost Battalion", his goal to honor all the veterans of the campaign including the 405th FS pilots and men of the 100th/442nd RCT, and who sacrificed so much to supply and breakthrough to Lt. Higgins' trapped troops. The six-issue monthly series will be released by DC Comics in November for Veterans Day.
Event Schedule
Event Schedule (subject to minor alteration)
Friday July 18
11:00  Opening Ceremony, unveiling of Lost Battalion Artifacts
Texas Military Forces Museum Great Hall
1:00   Texas Military Forces Hall of Honor Induction Ceremony
Texas Military Forces Museum Conference Room
Saturday July 19
"The Lost Battalion" symposium: Building 8 Auditorium, Camp Mabry
9:30     Opening remarks

10:00   The Lost Battalion Story: An Overview:
Franz Steidl, author "Lost Battalions: Going for Broke in the Vosges, Autumn 1944"
10:40   Mid-morning break
11:00   Cut Off Behind Enemy Lines: the 1st Battalion, 141st Infantry:
2nd LT. Erwin Blonder, Forward Artillery Observer, 131st Field Artillery
11:50   Lunch in Building 8 dining hall
1:00     Dangerous Flying: the 405th Fighter Squadron:
LTC Eliel "Arch" Archilla, pilot, 405th Fighter Squadron
1:50     Mid-afternoon break
2:10     Breaking Through: the 100/442nd RCT:
T/4 Yeiichi Kelly Kuwayama, combat medic, CO. E 442nd RCT
3:00     Break
3:15     Question and Answer session with our speakers
Hotel Reservations and Car Rental Information
Reservations can now be made by calling Holiday Inn Austin Northwest/Arboretum at 512-343-0888 or online at www.hotelaustin.com  
Please tell the hotel that you are taking part in the "Lost Battalion Symposium" to get the discount rate. Or you can click on the link below
Texas Military Forces Museum "Lost Battalion"
July 17-19, 2008
Lost Battalion
Last day to make a reservation:  July 4, 2008
Online room reservations are now just a click away! Simply click on the link above to facilitate the reservation process. This will direct you to the property home page with the code already entered in the appropriate field. Please choose your arrival/departure dates and preferences and click "Check Availability".  If you would like to call in, please call 877-719-8291 and ask for the group, the date and hotel. Thank you and Relax . . . its Holiday Inn!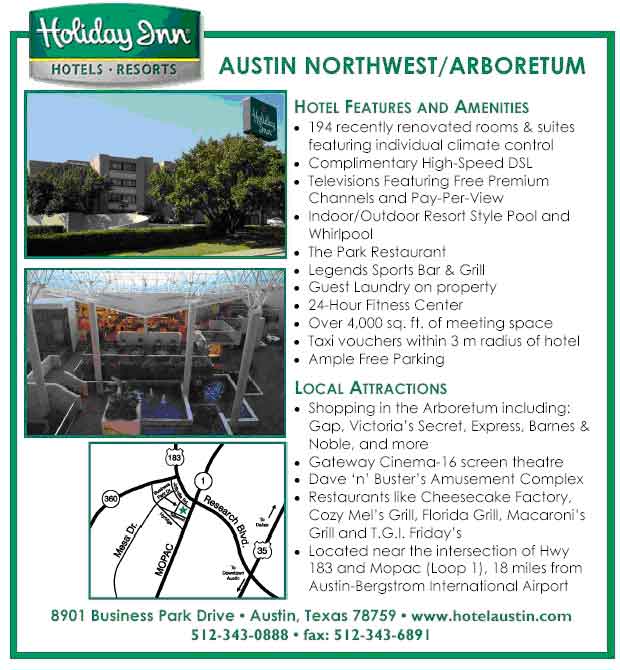 Enterprise Rent-A-Car is excited to partner with the Texas Military Forces Museum to provide a discount to all "Lost Battalion Story" attendees.
When making a reservation by phone reference discount code: 65B3007
If making a reservation at Enterprise.com(r) use: Account Code: 65b3007 Pin: LOS
If you have any questions please call Local Corporate Account Manager:
Sunny Howard 512-912-5332
sunny.c.howard@erac.com
Symposium Registration and Contact Information
REGISTRATION FORM FOR LOST BATTALION SYMPOSIUM
(You may find it more convenient to open and print this form: registration.pdf. )
Name:  _______________________________
Group Affiliation if any:  _____________
Mailing Address:_________________________________________________________
_______________________________________________________________________
Phone Number:__________________ Email: _________________________________
Will you be attending the Friday July 18th Ceremony (Please Circle one) Yes No
There will be a registration fee of $10 which will include a catered lunch on Saturday, coffee, drinks, and mid-morning, as well as mid-afternoon snacks. Please make checks or money orders payable to Texas Military Forces Museum
Please circle one option from each category below
All sandwiches come with chips and pickle
Lunch Options:
Bread choice: (Please Circle one) white/ wheat/ rye/ onion bun/ croissant/ wrap/ French bread
Meat choice: (Please Circle one) turkey breast/smoked turkey breast/chicken salad/ tuna salad/roast beef/ ham/ hard salami
Cheese choice: (Please Circle one) American/ Swiss/cheddar, /jalapeño pepper jack/ provolone cheese/ no cheese
Side choice: (Please Circle one) Italian pasta salad/ American potato salad/ 3 bean salad/ tuna penne pasta salad/ fruit/cup of soup: (chili, red beans with sausage or rice, spicy gumbo)
Dessert choice: (Please Circle one) brownie or cookie [If you chose a brownie stop here]
Cookie choice: (Please Circle one) chocolate chip/white chocolate macadamia nut/cranberry walnut oatmeal/ peanut butter
Please mail completed registration form with check or money order to:
Lisa Sharik
Texas Military Forces Museum
PO Box 5218
Camp Mabry
Austin, Texas 78763-5218
If you have any questions concerning the form, you can reach me at 512-782-5394 or email lisa.sharik@ng.army.mil
Our website is: http://www.texasmilitaryforcesmuseum.org
We hope that you and your family will attend!
Please contact us if you have any questions, or visit this page for updates on the program.