After a short ride, we had dinner at a quaint restaurant where we were served with a wonderful meal. The menu consisted of baked chicken, potatoes, baked tomatoes, raspberry ice cream, coffee and wine for those who wanted some. The restaurants where we ate and during the ceremonies in the towns and villages always served us with the best wine and champagne from the local wineries. In fact all the meals that Galaxy Tours planned for us were great, well prepared and always in a wonderful atmosphere of friendship.

From there and after a two hour ride, we arrived at the Quai Marechal de Contades hotel in Epinal where four men from the Holland Reenactment Group met us. They had driven all the way from Holland in a 1942 Army Jeep just to meet us. These fine young men were dressed in authentic army uniforms of the WWII, era with the famous 36th Division T-patch on their shoulder.

Our late arrival meant that the hotel help had already gone home and there was no one to help with our baggage. Not to worry. These fine young, healthy and strong men took it upon themselves to deliver our baggage to our individual rooms. They refused our offers of monetary thanks, but were very pleased to accept 36th Division hats we had brought over to give to certain individuals. This is one time we knew who to give them to, and these men were so very happy to receive them. They were grateful because they live and breath 36th Division history. These four young men stayed with us as a group for a few days. After they returned to Holland, Pieter Oosterman of the same group joined us and stayed with our group, driving his car behind our bus. A letter he wrote after our group returned to the States is quoted in part: "Being part of the ceremony and reception at Sigolsheim was one of the highlights for me. I really felt proud wearing my 36th Class A uniform on this occasion. Last Monday our re-enactment group had a meeting. We had a lot to talk about. We agreed that meeting the 36th Veterans was a great experience." This group represented "A Company, 141st "and they were thrilled when they were informed that Robert Peiser of our tour had been a member of that same Company during the war.

After a nights rest and breakfast at the hotel, we were taken to the location of the Moselle River crossing and were led by the same Frenchman who had led our troops to that location during the war.

One of the Holland Re-enactment Group with the Jeep he drove from Holland.

Morris Courington proudly driving WWII Jeep that the Holland Reenactment Group drove from Holland to meet the Group at Epinal, France.

There at the beautiful monument we placed a wreath which had been dedicated to the 36th Division. The monument is kept in excellent shape and the grounds around it by Rene, Colette & Jean-NicolasTH0MAS of 3, Chemin du Palton, 88120 CLEURIE, France. I included the names and address in the event that any of the readers would like to write them and express their appreciation for what these people are doing for us year after year.

A reception as held right by the river with some very fine champagne and food. These people here, and everywhere we went, never stopped showing their love for us and anyone from the 36th. While we were still in the area the Holland group took several of our men to the locations where they had either been wounded or had some other experience during the war. Several places would have been impossible to visit with our four wheel drive vehicle but that 1942 Army Jeep did the trick.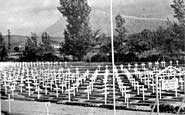 From here we were bussed to the Epinal American Cemetery where Superintendent Roland Prieur greeted us and made us welcome. Superintendent Prieur was largely responsible for making many of the arrangements to meet with the dignitaries of the towns and villages in this part of France. We had a very solemn wreath laying ceremony and prayers by our traveling Chaplain Tom Dunne; a Catholic Priest ; and a Protestant Priest. We had time for everyone to visit the grave sites of their comrades and for each one of the 36th Division men buried here an American flag had been placed near their grave marker.

Next stop was at a Chapel high on a mountain top which had been built and dedicated to the American Forces by an avid fan of the American Soldiers. This wonderful man is now in his nineties. It is said that he is more American than most Americans and that he is very proud of his creation, the Chapel. It is very evident that when this old fellow built the Chapel that the work he put into it came from his heart and he shows it by the way he is so very proud to show everyone his handiwork. The grounds around the Chapel are well kept and you know that this is an art work by someone who loved what he was doing.
| | | |
| --- | --- | --- |
| After visiting this very beautiful part of France we then boarded our bus for a short ride to the very beautiful village of Anould, where we had a brief ceremony at the town hall, again with champagne, treats and speeches. From there our next stop was Clefcy-Ban-sur-Meurthe to view its memorial plaque. M. Rene-Andre Durand wrote "After D-Day the fast advance of the Allied Forces through France fostered the hope that liberation was near at hand. Unfortunately the retreating German Armies decided that the Vosges should be their main line of resistance—so called "Winter Line"—the organization of which began in early September. All the men, although civilians were compelled to dig trenches, anti-tank ditches, to set wire entanglements in an attempt to stop any further progress of the US and French Forces toward the Alsace and Rhine Valley. But the worst was still to come! Of course the people of the concerned localities had not the faintest idea of the secret criminal order of Himmler, the abominable SS Leader. As soon as the enemy came within artillery range all localities before the line of resistance must be evacuated. The men of 18 to 45 years will be transported to the Reich's territory. Women and children will be led toward the enemy lines. The evacuated places in the no-mans land will be systematically destroyed. Thus an unprecedented calamity struck both poor villages of Clefcy and Ban S.M. On November 8th the most part of the male population was deported to Germany. The unfortunate families driven out of their homes and pushed through cold and snow towards the American lines. The Krauts then pillaged and set on fire the abandoned houses. When in the morning of November 21 the G.I.s of the 36th Division of Texas came down to the valley. They found nothing but mined roads and charred ruins. Ban sur Meurthe and Clefcy, victims of Nazi savagery had ceased to exist." | | Group of 36th Division Vets and family member. Notice the street is named in honor of the 36th. |



This World War II history is sponsored and maintained by TMFM