While we were rewarded with this tale of bravery our bus continued to the top of the mountain where the medieval fortress of Haut-Koenigsbourg had been built several hundred years before. Here, I think I should tell you something about the castle and how the castle fit into the battle plans of the 36th. "After fighting through the remains of Hackelís Grenadiers cross-country from La Croix-aux-Mines, two companies of the 3rd Battalion, 142nd Infantry Regiment, outflanked and surprised the Germans, routing them and capturing 170 with a loss of only two Americans slightly wounded. Soldiers of the 3rd Battalion occupied the medieval fortress without resistance and beat back a 16th Volksgrenadier Division counterattack two days later.

One of our group, Cewrin Johnson, was one of the men who climbed the mountain and was admitted by the care-taker after applying rifle butts to the heavy door. He told us that to ward off the bitter cold and not having blankets the squad he was with pulled the ancient and very valuable drapes from the walls of the castle to cover themselves. How did they know, these fighting GIís, that those wall coverings were priceless. The fortress building itself covered, I imagine, at least an area of two city blocks and was very impressive in its size and architecture.

On to Kientzheim where Cewin Johnson and his good Buddy, Curtis Alley, who were in the same Company, wanted to find the place where Cewin as a forward scout found a German tank waiting to ambush his Company. The tank did fire on them but because Cewin had been able to warn his Company, there were no casualties. We found the exact spot where the German tank, and another plus was marked up for our tour guide Dennis Ross.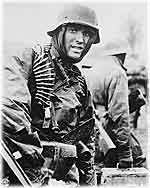 A Nazi soldier, heavily armed, carries ammunition boxes forward with companion in territory taken by their counter-offensive in this scene from captured German film. Belgium. December, 1944. Still Pictures Branch. National Archives at College Park, Maryland.