111th Reconnaissance Squadron
World War II Narrative History
Part XI: France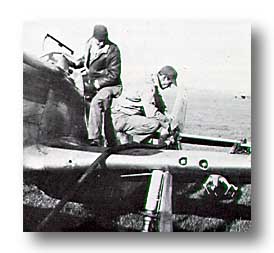 "D" Day in southern France came on August 15, 1944, and 111th men, ever mindful of the bloody beaches at Salerno and Gela, waded ashore with considerable misgivings. The combination of the Normandy beachhead break-out and concentrated aerial bombardment on enemy-held shore installations, made the southern France invasion a Sunday-School picnic in comparison with what had been expected. The first night on shore was spent on the beach near St. Maxime and was highlighted by an enemy air raid on the beach that night. The next few nights were spent in a church yard a few miles inland, where one night brought a severe electrical storm which knocked down more than a scare of barrage balloons in flaming streamers, and drove the rain-soaked men to the shelter of the church. Move three was to Puget and billeting in kiln-shaped barracks of an Indo-Chinese labor corps camp. Off-the-Record trips were made to Cannes and Toulon as soon as they fell to American troops, and we were warmed by the welcome accorded us by the French people. On "D" Day plus-thirteen the first air echelon arrived from Corsica and brought with it our Mustangs and the navy men. On September first the remainder of "A" echelon arrived by boat from Corsica, stopped at St. Raphael airfield long enough for chow, and moved on ahead to Montelimar. On September 5 the entire squadron was joined for operations at Valence.
The roads we traveled on our way northward were lined with miles and miles of burned and wrecked motor transport which had been bombed and strafed by our fighter-bombers. Dead horses, which had been dragged to one side and liberally covered with quick lime, lay bloated and smelling of death. Roadside graves, marked only with a German helmet on a stick, were a frequent sight. Our stay at Valence was shortlived, and on September 9 we moved to Satolas airfield, within ten miles of the sprawling city of Lyons.
Lyons offered all the excitement and attraction that a city of half a million population can. The city had been liberated by French Maquis and an American soldier was somewhat of a novelty to its inhabitants. Our position was a good one and we exploited it to the fullest. On Sundays whole families, from miles around, would make pilgrimages to the airfield, on foot and bicycle, to look the planes over and talk with the ground crews. Invitations to dinner and offers of eau de vie and good wine were always available. Plans were made to celebrate (???) our second anniversary overseas. Arrangements were made for the purchase of two bulls suitable for barbecuing, plenty of draught beer and ice were brought out from the city, and a large roller rink and bar were rented for the evening of September 27 in Lyons. The barbecue was cooked all night long over a charcoal pit, and eaten the following day at noon with plenty of weak, but cold, beer for a wash. The success of the party in the evening is best described by the words of a French employee at the hall as he watched the proceedings with mingled amazement and admiration. He said, "France, she is noted for her gaiety and parties, but France has never seen a party like zees!" Amen! Perhaps it is just as well that the following morning, in a drizzling rain, we pulled up stakes and moved closer to the battle line.
The airfield at Dijon had suffered little damage at the hands of the Germans. It boasted two fine runways, hard-faced taxi strips, and many well-camouflaged, revetment-protected hardstands. We moved into the little village of Neuilly Dijon, which bordered the field, and lived with private families and in public buildings. A combination of mess hall, day room and theater was made out of the local theater and all the townspeople attended our movies as regularly as we did. The squadron chipped in and bought a stained-glass window for the church which had suffered damage in an air raid. While here, we lost our status as an individual squadron and were placed in a Provisional Reconnaissance group under the First Tactical Air Force. The days grew colder and we hoped that we would be able to make this our winter home, but the Army had other plans and on October 29 we left for Azelot airfield.
Azelot airfield is located about ten miles from the Lorraine city of Nancy. The field itself is situated on a barren plain, so quarters were made in a former German garrison in the town of St. Nicolas, about five miles north of the field. The winter of 1944-45 in France was bitter but shortlived. Snow fell to knee depth and greatly hampered operations. The field was often unoperational due to a persistent ground-haze, but our planes were in the air at every possible opportunity in co-operation with the Seventh Army drive through the stubborn Siegfried Line and across the Rhineland. The Ardennes Bulge, which the enemy created in December, 1944, was about eighty miles to our north, but caused us to double our guard and our pilots had to be especially watchful for possible enemy offensive activity in the sector assigned to us. In the pursuance of this task our pilots experienced many thrilling aerial combats with enemy aircraft which rose, for the first time since our early days in Africa, to challenge our air supremacy. Although the desperate Luftwaffe attacked our two-ship formations with from eight to twenty fighters, the quality of their ships and courage of their pilots was no match for what we had. Daily, our claims of enemy aircraft destroyed and damaged mounted until finally the Luftwaffe, fearful of the sock of the Mustang and skill of its pilots, threw in the towel and refused to do battle.
The inactivity brought about by the inclement weather and short winter days led to much use of the dayroom facilities. The bar stock was improved from time to time with the addition of captured German Liquors, and occasional mercy missions of the Super-Snooper Express. A wild-eyed bridge tournament was run off successfully and squadron dances were held regularly with many young and old ladies from Nancy and the surrounding area in attendance. At Christmas time we had a fine tree completed with lights and decorations along with a mock-up fireplace. The walls of the barracks were well decorated with pin-ups, and December soon slid into May. Schwartzie still hadn't carried in any firewood. Strictly officer material! On April Fool Day, 1945, the squadron moved to Hagenau, France.
Hagenau is not far from the Rhine River and is twenty-seven kilometers north of Strasbourg. It is in Alsace and its inhabitants are French-thinking, German-speaking people. A situation such as this can lead only to confusion. The airfield of Hagenau had changed hands several times in the bitter fighting which had occurred in its precincts and its steel-concrete hangars and buildings had been thoroughly demolished. Operating from within a group made our share of the work small in comparison with what we had had when operating as a separate unit. The ease-up in work led to many trips into Germany to Karlsruhe, Mannheim, Heidelberg, Dormstadt, Frankfurt, Stuttgart, through the extracted teeth of the Siegfried Line to the famed picturesque cities of Alsace-Strasburg and Colmar.
The formal announcement of V-E Day on May 8, 1945, came as an anti-climax to most of us. The war in Europe was over, but we were still soldiers and we were still a long way from home.
Members of the Unit were being transferred back to the States. The Unit made another move to Nuremberg, Germany. The Squadron received a new Commander, Major Dockrey. Records reveal that the last group of old members of the Squadron were returned to the U.S. about July 1945. The Unit was inactivated 31 Oct. 1945.